last modified

Sep 01, 2016 10:34 AM
This event will take place on 11 October 2016 at St George's, Stockport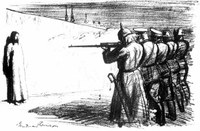 The Deserter by Boardman Robinson. First published in The Masses in 1916. available with CC licence at https://commons.wikimedia.org/wiki/File:The_Deserter.jpg
Remembrancetide always challenges worship leaders and preachers. The centenary of the Great War has only intensified the demands on ministers planning meaningful memorials, as churches are called to take a lead in local and national commemorations.

One hundred years ago, as the world faced the horrors of the first total war, the Bible and Christian faith were crucial to people trying to make sense of that experience. The way the Bible was read in the Great War can seem shocking to us now, but studying biblical texts as they were received in past conflicts helps us understand how Christians have attempted to hold together our witness for peace and the demands of a national civic religion.

In this study day we will:
• reflect on our current theology and practice of remembrance
• explore wartime uses of the Bible to discover new sources for theology and  preaching for Remembrancetide
• consider how local historical materials help us connect with the collective  memories of our communities
• draw on the recent experience of Bradford Cathedral to discuss the practicalities of organising a major commemoration
Cost (including lunch): £7.50
For further details and to book, email curate@stgeorgestockport.org.uk 
Course leaders:
Dr Andrew Mein is Senior Research Fellow in Biblical Studies at Westcott House, Cambridge. He is leading a Cambridge University research project on the use of the Bible during the Great War.

The Revd Cat Thatcher is Assistant Curate at Bradford Cathedral, and was responsible for organising its recent commemoration of the Battle of the Somme.

The Revd Dr Alec Corio is Assistant Curate at St George's, Stockport. Before training for ordination he completed a PhD in late nineteenth and early twentieth century religious history.